Sex, drugs and teenagers. With the upcoming theater release of "The Smell Of Us" we remember Larry Clark's Opera Prima: "Kids"
Around twenty years ago Larry Clark met in the skate parks of New York a young Harmony Korine with whom he would collaborate to write the script of his first feature movie. The result was called "Kids" (1995) and it turned out to be one of the most notorious film debuts of the 90's, furthermore, as the years passed it became a cult movie. The controversy of "Kids" would mark Clark's cinematographic career, as he still continues to release films about teenagers surrounded by violence, sex, drugs and weapons.
"Kids" is the story of a group of young New Yorkers who spend their days skating around town, smoking and looking for the next virgin to deflower. One might think that it is a portrait of American teenagers and the excesses they are involved in with such naturality and unawareness, in fact the documentary language that Clark uses – camera in hand, realistic staging close to improvisation, young and unknown actors taken from the street… – gives reasons to believe that it is indeed a documentary. However the story ends up focusing on four main characters, Telly (Leo Fitzpatrick), Casper (Justin Pierce), Jennie and Ruby, played by very young Chloë Sevigny and Rosario Dawson respectively. Shortly after a quite intense presentation of the atmosphere in which these characters live, the script spins to reveal that Jennie has contracted AIDS, and that she has been infected by Telly, the only person she had sex with. From this moment on, in addition to the shock that the news suppose – not just for the characters but also for the viewers – the tension concentrates and lengthens while Jennie tries to find Telly in order to prevent him, when at the same time it is shown how the boy continues to deflower more and more girls. The absolute unawareness and carelessness shown throughout the film is however exempt from any moral judgement, the audience is witness to the atrocities and destruction that spreads under the total ignorance of the young characters.
Larry Clark started with "Kids" a trend that continued during his career, a cinema about the ugly, about violence, drugs and excess that exist in a society that ignores them. This topic, usually centered on teenagers, represents the reality he lived in and both his photographic works and his films exhibit such reality in a straightforward way. Other authors such as his contributor Harmony Korine were strongly influenced by this direct and uncensored language.
Recently the American film director released his first film shot in Europe, "The Smell Of Us", about a group of Skaters in Paris and which has been undertitled by many as the Parisian Kids. The Premier was on the 31st August at Venice International Film Festival in the Venice Days section, and it coincides with the 20th anniversary of Larry's Opera Prima.
By Nicolas Solís
________________________________________________________________________________________________________________________________________________________________________________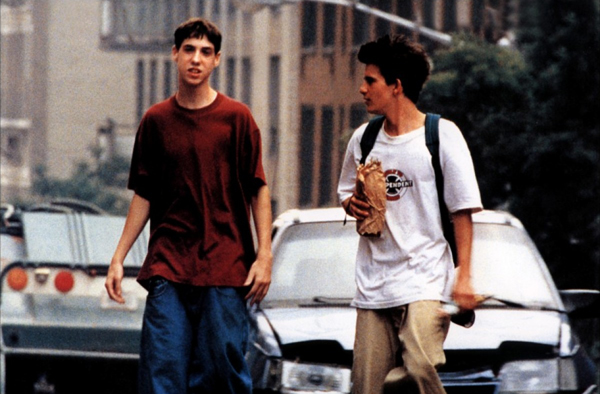 Kids – Larry Clark, 1995
Sexo, drogas y teenagers. A la espera del estreno en pantalla de "The Smell Of Us" recordamos la Opera Prima de Larry Clark: "Kids"
Hace 20 años Larry Clark conocía en los skate parks de Nueva York a un joven Harmony Korine con el que colaboraría para escribir el guión de su primera película. El resultado se llamó "Kids" (1995), y se convirtió en uno de los debuts cinematográficos más sonados de los 90 además de que, tras el paso de los años, el film pasó a considerarse de culto. La controversia de "Kids" marcaría para siempre la carrera de Clark, que continua aún estrenando películas cargadas de teenagers rodeados de violencia, sexo, drogas y armas.
"Kids" es la historia de un grupo de jóvenes neoyorkinos que pasan el día por la ciudad haciendo skate, fumando y buscando a la próxima virgen a la que desvirgar. Podría pensarse que se trata de un retrato de los teenagers americanos y los excesos de los que participan con la mayor naturalidad e inconsciencia, de hecho el lenguaje documentalista que utiliza Clark – la cámara en mano, una puesta en escena realista cercana a la improvisación, actores jóvenes, desconocidos y de la calle… – dan pié a creer que se trata efectivamente de un documental. Sin embargo la historia termina centrándose en cuatro personajes principales, Telly (Leo Fitzpatrick), Casper (Justin Pierce), Jennie y Rubi, interpretadas por unas jovencísimas Chloë Sevigny y Rosario Dawson respectivamente. Al poco tiempo de una presentación ya bastante intensa de la atmósfera en la que viven estos personajes, el guión gira al desvelarse que Jennie ha contraído el SIDA y que ha sido contagiada por Telly, única persona con la que ha mantenido relaciones sexuales. A partir de este momento, además del shock que suponen las noticias – no sólo para los personajes sino también para el espectador– la tensión se concentra y alarga mientras Jennie trata de encontrar a Telly para prevenirlo, mostrándose al mismo tiempo cómo el chico continúa desvirgando a más y más chicas. La despreocupación e inconsciencia absoluta que se muestran a lo largo del film, están sin embargo exentas de cualquier carga moral, el público es testigo de las atrocidades y la destrucción que se propaga bajo el total desconocimiento de los personajes.
Larry Clark comenzaba con "Kids" una tendencia que continua durante su carrera, un cine sobre lo feo, sobre la violencia, las drogas y el exceso que existen en una sociedad que los ignora. Ésta temática, normalmente centrada en torno a adolescentes, representan la realidad en la que el mismo vivió y tanto en sus trabajos fotográficos como en su cine la muestra siempre de una manera directa. Otros autores como su colaborador Harmony Korine se vieron fuertemente influenciados por este lenguaje tan directo y sin censura.
Recientemente el director americano estrenó su primera película rodada en Europa, "The Smell Of Us" , sobre un grupo de skaters de París, la cual ya ha sido subtitulada por muchos como el Kids parisino. El estreno fue el 31 de Agosto en El Festival Internacional de Cine de Venecia dentro de la sección Venice Days, y coincide con el 20 aniversario de la Opera Prima de Larry.
Por Nicolás Solís